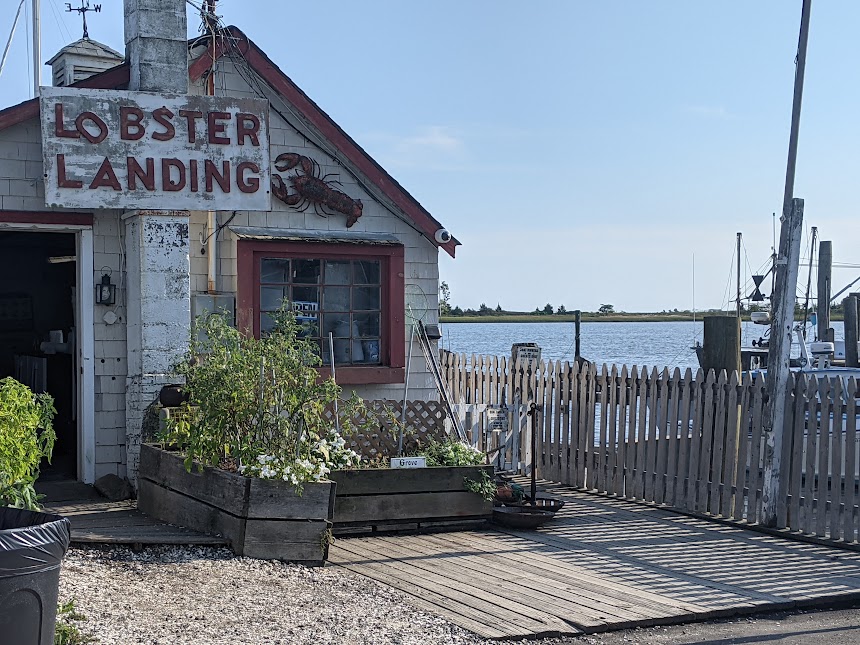 Inspired by the famous food and travel YouTuber Mark Weins and celebrating my brother's birthday, my family and I decided to embark on a Connecticut lobster roll crawl. After making a detour to check out the New Haven food truck scene and getting some scrumptious bites from across the Latine diaspora, our second stop was in Clinton, Connecticut to visit one of the area's most acclaimed spots: Lobster Landing. Known for its extremely fresh ingredients and down-to-earth ethos, we were excited to give it a try. Lobster Landing is owned by Enea and Cathie Bacci. Born in Piedmont, Italy, Enea Bacci comes from a long line of restaurateurs, and has spent much of his life dedicating himself to serving up deceptively simple, utterly delicious offerings in various restaurants. Their family's dedication to perfecting the lobster roll without pretension is something that draws crowds from all over Connecticut and beyond to their 100-year-old shack overlooking the Clinton Harbor.
When people think of Lobster rolls, most think of Maine-style rolls. They think of chilled lobster, tossed in a light coating of mayonnaise, served with a crunchy green like chives or celery. When it comes to flavors, temperature, and textures, the Connecticut-style lobster roll is a different experience from its northern cousin. The lobster is served warm as opposed to chilled. Instead of coating the lobster in mayonnaise, Connecticut-style eschews mayo altogether in favor of a healthy dose of warmed butter. A true Connecticut-style roll is a straightforward combination of lobster, butter, and lemon, served on a butter-toasted roll. For many fans of the sandwich, the choice between Maine and Connecticut often comes down to region, expectations, and personal preference.
Although I enjoy mayonnaise or a mayo-based condiment well enough in general, there is something so immaculate about the buttery, salty taste and uninhibited flavor of fresh lobster. For fans of a no-mayonnaise, Connecticut-style lobster roll, Lobster Landing is a cultural institution.
Although highly regarded, Lobster Landing has an unassuming atmosphere, and preserves much of what has made it a consistent local favorite for years.
Those interested can buy fresh lobsters from their storefront shack. Its worn structure and red roof house a "Lobster Landing" sign that seems like it's weathered a storm or two. All of this gives it an unbothered, unpretentious atmosphere, despite being regarded as one of the best lobster rolls in New England.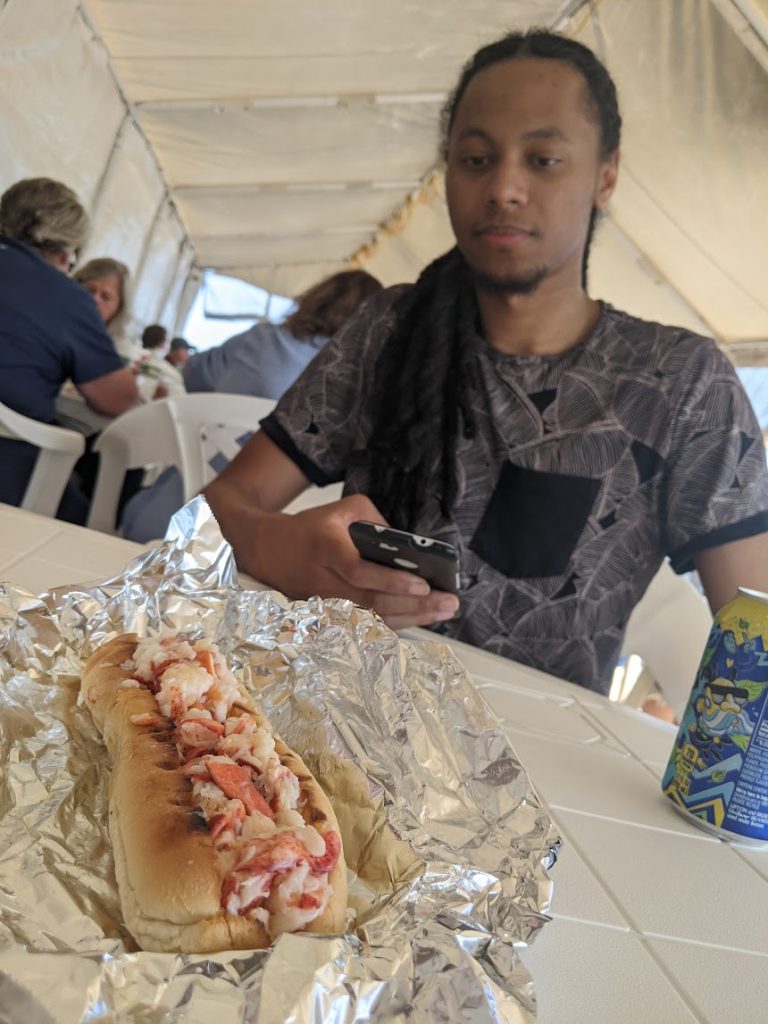 Patrons can choose to sit right on the water on the wooden dock of the marina. There is also a tent-covered seating area adorned with white plastic tables and lawn furniture atop crushed seashells. The servers are young, energetic, and personable. Instead of using an intercom system they shout out orders at a volume that could rival any PA system I've heard. We were sitting near the pick-up table and the cashiers' voices boomed throughout the whole space effortlessly. The spot was host to an array of people. There were two long-time friends and patrons catching up with the cashier, a young family celebrating a birthday, and a young woman and her mother sharing a bottle of wine, among others. In all it was a laid-back atmosphere with very few frills, all centering around the main attraction: their famous Connecticut-style lobster roll.
The lobster roll came served in tinfoil which functioned as the perfect catch-all for any miscellaneous pieces of lobster that might fall off of the sandwich. This sandwich was butter-forward, with a generous helping coating the succulent pieces of fresh lobster, and the roll itself is slathered in butter and toasted directly on the grill for a warm, toasty crunch. For those who aren't a fan of butter, or who are watching their butter intake, you can order it with butter on the side.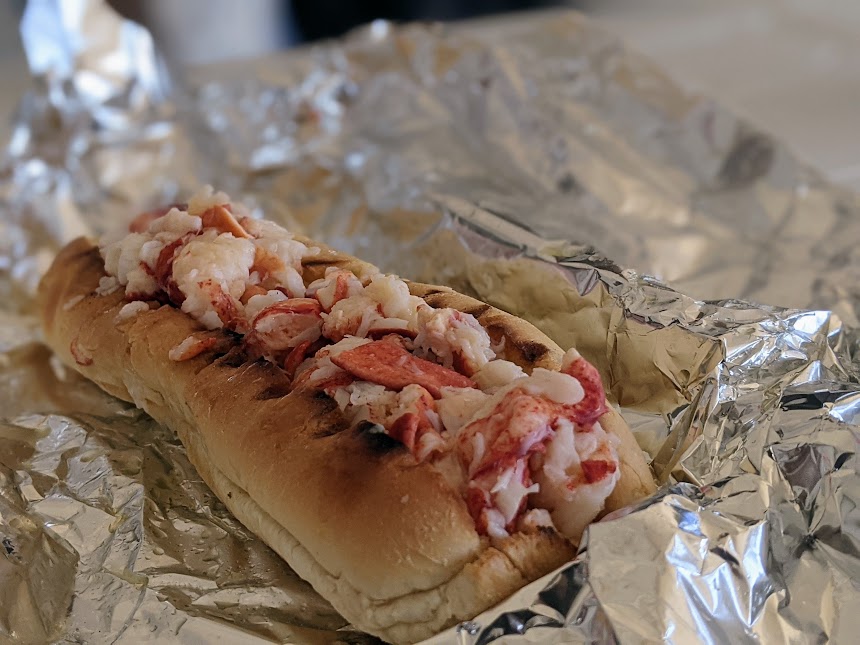 One difference is that instead of a New England-style hot dog bun split in the middle and toasted on the sides, Lobster Landing does things a little differently. Possibly in a nod to their Italian roots, they substitute it out and use an Italian sub roll. They toast it to a beautiful dark brown with pronounced grill marks. The choice of bread helps the sandwich maintain its integrity and hold the generous portions of lobster stuffed inside.
The lobster itself was fresh, caught that day in the Sound and brought straight to the grill. Texturally it was tender, not chewy or stringy. The meat had enough bite to it to hold up and break off in the mouth in perfect morsels of lobstery heaven.
Customers interested in exploring the menu do not have much ground to cover, as Bacci's culinary ethos is to do just a few things very well. Locals swear by the sweet Italian sausage sandwich, served up on a buttered Italian roll. We got a chance to try the clam chowder, which was thick, creamy, and briny. It had a great flavor but could have been done with a more generous helping of clams. Sure, it won't steal the show in any way from the lobster roll, but it's a very solid offering. They also serve hot dogs and homemade gelato. You can cap it all off with a side of Lay's potato chips, or a cold canned beverage.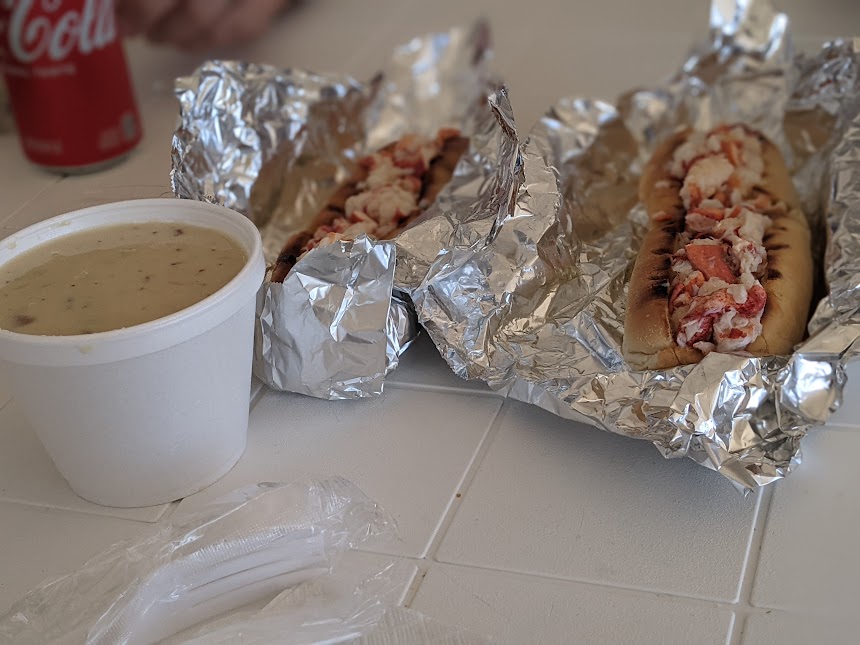 With the hint of a sea breeze, the remnants of buttery lobster on our lips, and the summer sun lulling us in we could've spent hours chatting and lounging by the marina. Many other patrons and regulars did just that. Fortunately for us, we had even more great food calling our taste buds. We had a food crawl to continue, and our next and final stop was in Noank, Connecticut for another lobster-fueled family meal.