My brother is notorious for his doesn't matter, anything works for me approach to plan-making. He put this strategy into action for his recent 27th birthday and tasked the rest of the family with finding a suitable activity for us to do to celebrate. One favorite family pastime of ours has always been watching television and movies together. Recently, we've started watching YouTube videos as well.
One of the channels that we've watched together a number of times is Mark Weins' channel. Weins is one of the more famous food and travel YouTubers, known for his sometimes overwhelmingly positive enthusiasm and penchant for finding international foods off the beaten path. He specializes in local and street food culture, foods one can find at a shack or small village that will blow your taste buds away and compete with any Michelin-starred meals.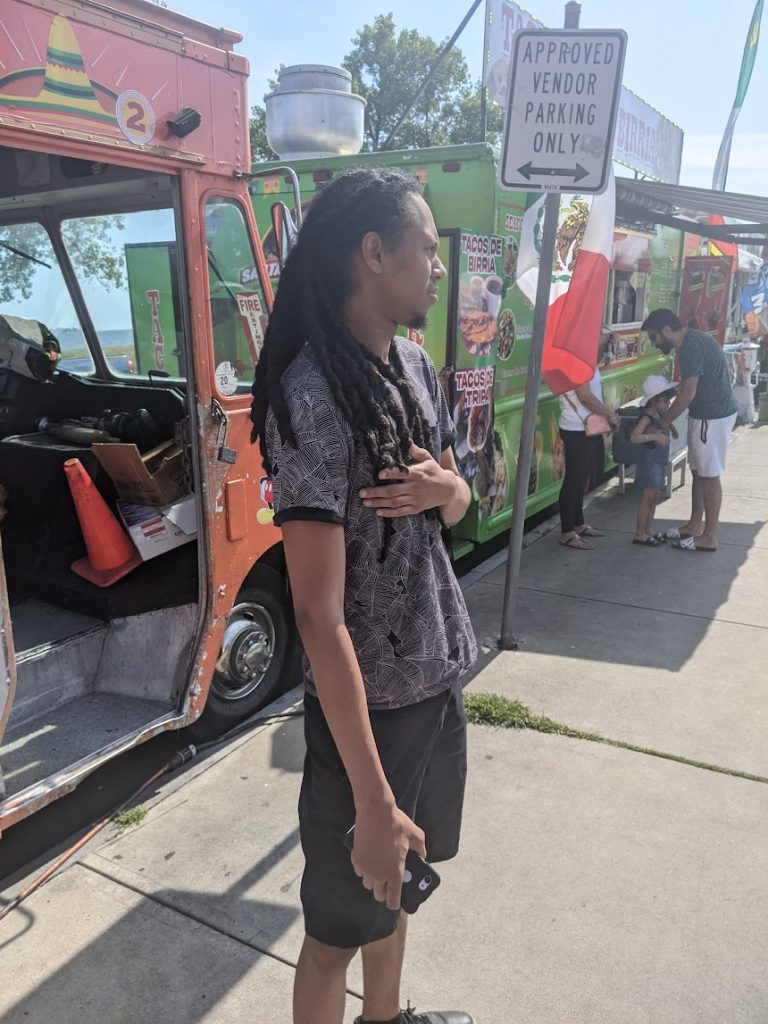 One of his videos is what eventually inspired our excursion, a two-stop tour of some of Connecticut's best lobster rolls. We were used to seeing Weins in more international locales, so seeing him bring the same sense of wonder and adventure to an area very accessible to us was inspiring. We decided to replicate his adventure for my brother's birthday, and embarked on a mini-crawl of two of Connecticut's best lobster rolls that Weins highlights in the video.
Growing up we moved to Rockland County, NY toward the end of elementary school. Although we'd visited the Palisades Mall and had family in Middletown, it felt like exploring new territory for me as a kid used to Brooklyn and New York City. One of the first adventures I can remember going on was trekking over to the Ikea in New Haven to pick out items to decorate our room. Of course, the draw for me as a kid was the Swedish meatballs and lingonberries in the food court. It is fitting that on this most recent local adventure, we would again stop in New Haven, except this time not for the meatballs.
New Haven is known as a culinary destination for pizza lovers. Those interested in their unique "apizza", with their no-cheese tomato pies and white clam pizzas, proclaim it to be some of the best in the country. One culinary staple of New Haven is lesser-known on the national scale. One strip off of I-95 is a haven offering up an array of latine-cuisine whose culinary roots span from Central and South America to the Caribbean. Aptly called Food Truck Paradise, it's the perfect spot for a quick pit stop and recharge during a long car ride. It's also great for groups looking to sit in the grass and enjoy a good set of tacos and an ice-cold beverage. Even though there were no lobster rolls to be had, we felt we had to stop and try some offerings for ourselves.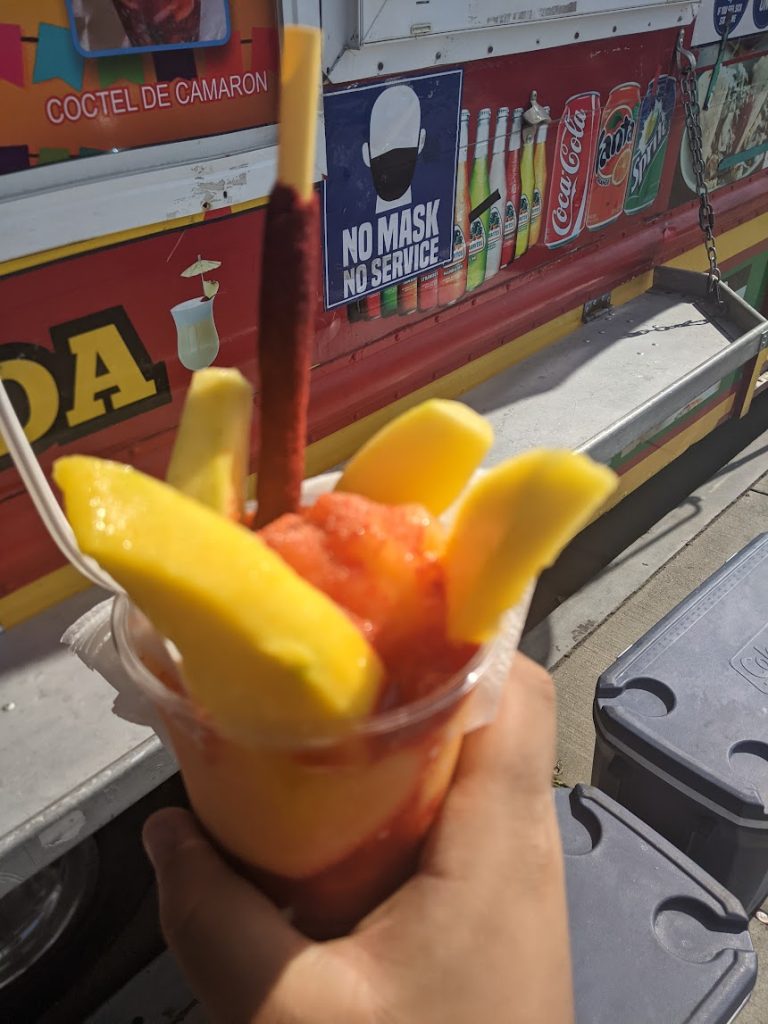 The strip is only about a half mile, but when we drove up it was bustling, with an array of food trucks sporting different cuisines and food lovers ogling lovingly. We took the time to stroll, browse the different trucks, and see which ones had some buzz. While strolling I picked up a mangonada, a mango and chili drink with mango nectar, lime juice, chamoy, and chili lime seasoning, sucked down through a tamarind candy-coated straw. We also enjoyed a generous cup of shrimp ceviche served in a cold tomato-based sauce with lime, cilantro, and onion. They were the perfect cold appetizers to whet our appetites.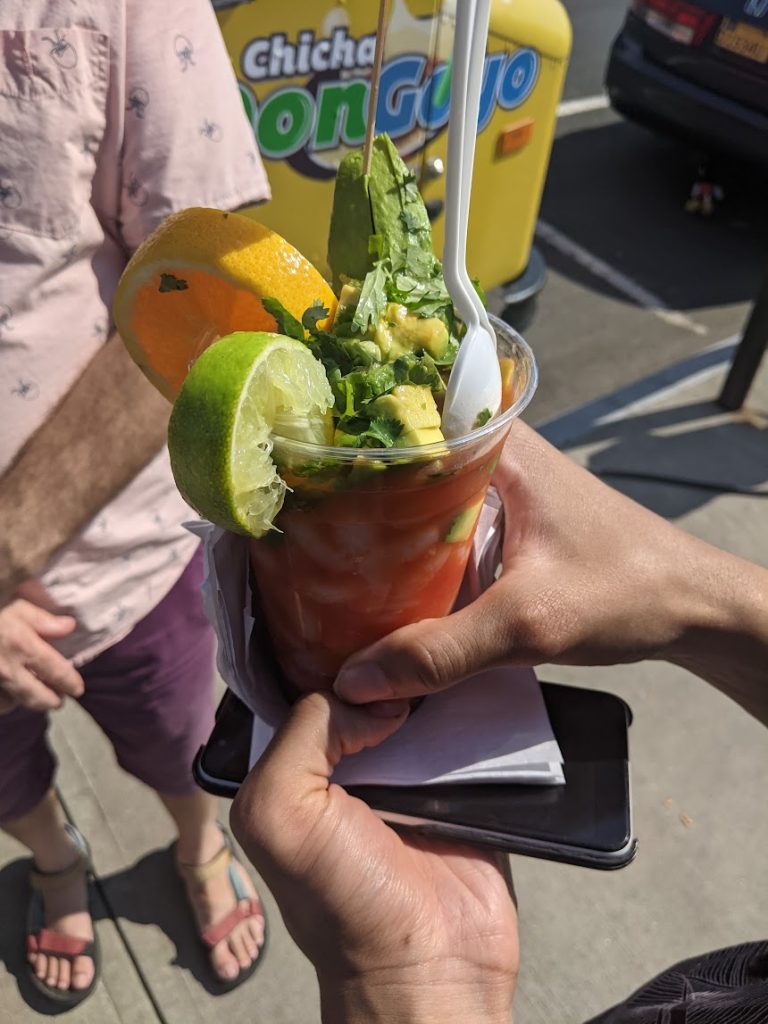 The great thing about going with a number of people was that it gave us the opportunity to order an assortment of foods for entrees. My stepdad went with Venezuelan Arepas generously filled with pork, bean, and cheese, and was definitely pleased with his order. He spoke for some time with the owner about his own experience traveling in Venezuela. My Mom had recently learned about birria tacos, and so was on a quest to try them herself. One of the most popular places was a truck called La Patrona. The birria tacos came with an oversized helping of consomme to dip, a vivid red broth with white onion and fresh cilantro. The beef was tender and paired perfectly with the roasted jalapeno offered on the side.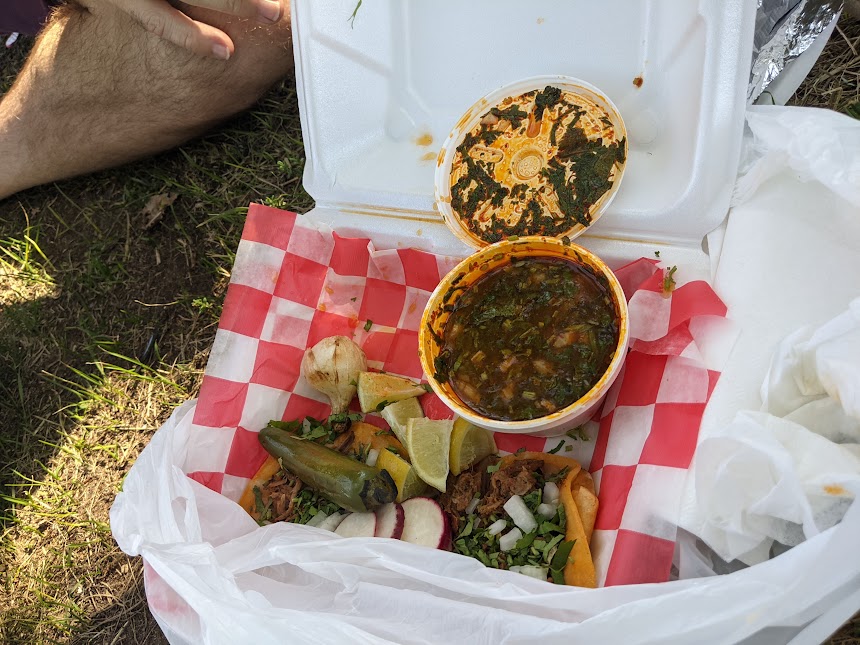 We also ordered an assortment of tacos from a truck called Ixtapa. They had a large selection of various meat options and lightning-quick service, all at very reasonable prices. I ended up ordering a few different cuts, including al pastor, lengua, buche, and tripas. The marinated pork and pineapples of the pastor were a hit with the family. I enjoyed the pork stomach of the buche, which had a texturally complex combination of char and tenderness. The beef tongue of the lengua had a rich, beefy flavor while the beef stomach of the tripas also had a similar richness, albeit again with a more chewy component to its texture.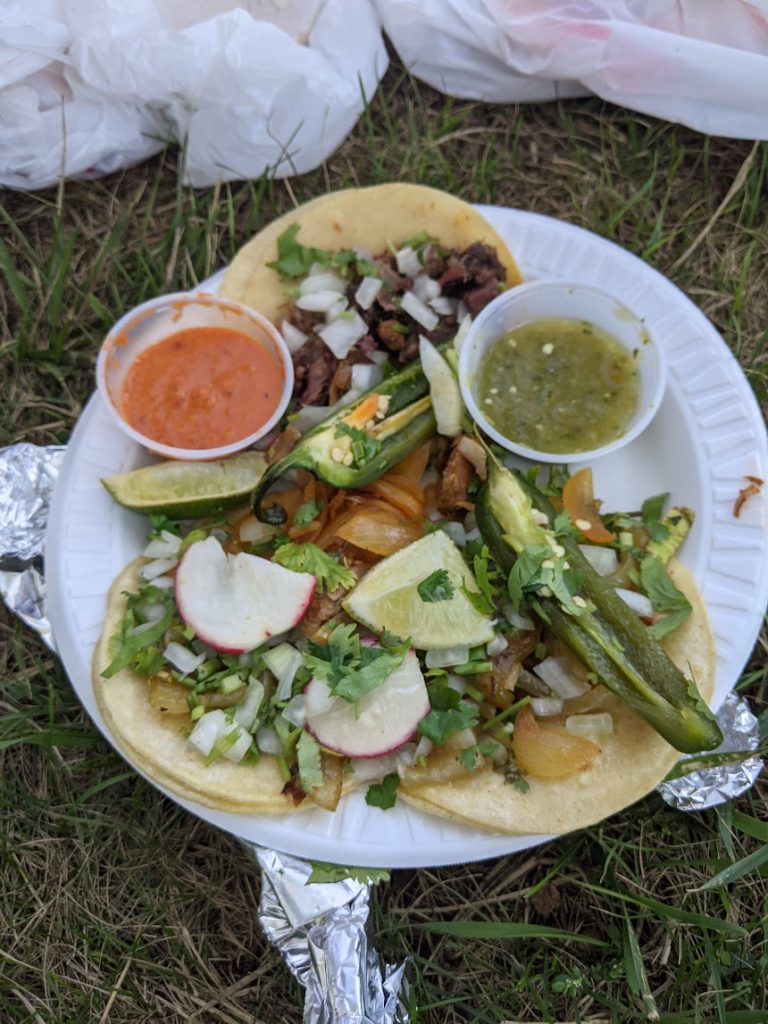 Outside of what we ordered there was something for everyone, with vendors selling Mexican, Puerto Rican, Cuban, Dominican, and various other Central, South American, and Latine Caribbean cuisines. Some standouts that I'd definitely return for and that looked worth trying included pressed Cuban sandwiches, sancocho, bacalaitos, alcapurrias, and mofongo. Although our pit stop became a meal in and of itself, we were tempted to try even more of what the strip had to offer, but ultimately continued on our journey. The next stop would be a landing spot for locals and out-of-towners like ourselves known for their lobster rolls.